Dedeman Palandoken Ski Resort Hotel
Code: ERZDEDE
Dedeman Palandoken Ski Resort Hotel
Code: ERZDEDE
Turcja (narty)
One of the best situated hotels in the region of Erzurum, it offers very good conditions of stay and a high standard of services. The hotel is situated on a slope, next to ski runs and is an ideal spot for enthusiasts of the white craze, both those who are advanced and beginners, who can take advantage of skiing lessons on site, organised by the hotel. For enthusiasts of apres-ski entertainment, the hotel has prepared a recreational centre with a swimming pool and sauna, on site there are also a few bars and a disco. Terrific ski conditions in the region of Palandöken and the constantly developing sport and recreation base guarantee great and active winter holidays.
Offer advantages

right next to the ski lift and downhill trails
very good service
tasty meals

4,8 / 6

98% rated good or very good

Klienci doceniają:

Location
Good food
Service

4,8 / 6

98% rated good or very good
Turcja (narty)
Snow fluff of the highest standard, trails for beginners and advanced, high class hotels with private ski lifts and après-ski attractions, excellent conditions for active leisure for families with children - these are the advantages which attract more and more skiers who are looking for new, interesting places to Erzurum ski area. We invite you to "Kayak", that is Turkish skiing!
LOCATION: in the ski region of Palandoken, at an altitude of 2420 m a.s.l., near the ski lifts of the complex, approx. 8 km from the centre of ERZURUM with shops; approx. 17 km from the airport in Erzurum.
SKI LIFTS: approx. 20 m from the chairlift in Palandoken Ski Resort complex 3140 m (ski pass at a charge): 1 gondola lift, 6 chairlifts, 1 T-bar lift; approx. 25 km from the Konakli complex 3140 m (ski pass at a charge): six 4-person chairlifts.
HOTEL: four-star, built in 1996, well-maintained, 187 rooms, 2 buildings, 6 floors, 4 elevators, renovated in 2010, lobby, 24h reception, skis and shoes storage, restaurant - buffet meals, international cuisine, children's highchairs and menu available, vegetarian dishes; 5 bars: lobby bar, Igloo Cafe, Dedeman Cafe at an altitude of 2600 m a.s.l., Teleski Cafe, Arzen Disco, money exchange; conference centre for 170 people, free wireless Internet in the lobby; extra charges: room service, laundry, car rental; credit cards accepted: Visa, MasterCard.
ROOM: standard: 2-person (1 or 2 extra beds available), approx. 22-24 m2, well-maintained, heated, bathroom (bath or shower, wc; hairdryer), satellite TV, telephone, safety deposit box; extra charges: mini-bar; free cot for children up to 2 years old on order before arrival.
SPORT AND ENTERTAINMENT: indoor pool, free-form, sweet water, heated, approx. 20 m2, depth 1.4 m, paddling pool for children, sweet water, depth 0.4 m; fitness centre, sauna, Turkish bath; playroom for children, mini-club (4-9 y.o.), animations for children, disco; extra charges: pool table, table tennis, ski rental (approx. 45 TRY/day), ski service, skiing lessons, massages, care treatments.
FULL BOARD PLUS (at a charge): unlimited soft drinks and local alcoholic drinks with lunch and dinner: beer, wine.
CONTACT: 0090/4422320010,www.dedeman.com
Practical information
Pilot: tourists are looked after by a Polish resident, whose tasks include help upon arrival, departure and stay, as well as registration for local trips.
Visas: required; tourist visa entitles to stay on the territory of Turkey for 90 days during the visa's validity period of 180 days; it is required to purchase it via the Internet platform E-visa (https://www.evisa.gov.tr). Visa cost: 20 USD. Passport must be valid a minimum of 6 months. Holders of temporary passports cannot purchase a visa through the E-visa system nor at the border. They must obtain a visa at a Turkish consular post.
Flight duration: Poland-Erzurum - approx. 3.5 h
Local time: GMT + 2h
Currency: 1 Turkish lira (TRY); 1 EUR = 2.9 TRY.
Language: Turkish; communication in English is also possible.
Tips: the rule applies that you give as much as you can afford. Earnings in Turkey are low and tips are often a great financial help. It is customary to tip drivers on local trips and waiters - approx. 5-10%.
Local trips: organised by local tourist agencies on terms specified by them. There is a possibility, that if there are too few participants, a trip may be cancelled.
SKI SEASON – PALANDÖKEN I KONAKLI:
December-May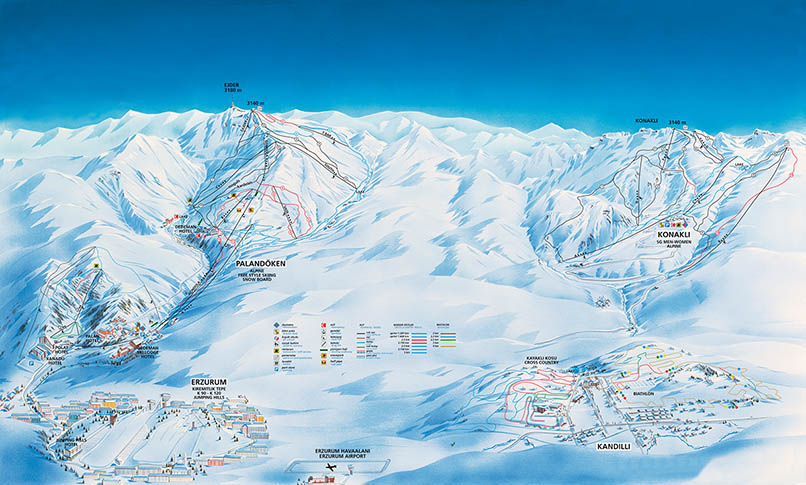 Download map in full resolution
SKI TRAILS
Location: approx. 2220–3176 m a.s.l.
Total length of ski trails: approx. 70 km: 38% easy, 43% medium, 19% difficult.
SKI LIFTS:
Types and number of ski lifts: Palandöken: 1 gondola lift, 6 chairlifts, 1 T-bar lift.Konakli: 6 chairlifts.
Total capacity of ski lifts: approx. 11,200 people/h.
SKI SCHOOLS:
They operate by the hotels. Skiing lessons with instructor: approx. 50 EUR/person/h.
SKIPASS PRICES:
approx. 15-20 EUR/person/day.
Region description
Turkey has so far been associated with summer holidays - now it comes in a completely new version, that is excellent propositions for winter ski holidays. The great beaches and picturesque coastline are loved by millions of tourists from all over the world. Interior is a completely different world, dominated by mountains. Terrific natural conditions for winter sports, investments in infrastructure: lifts, ski runs, hotels and experience in the tourist industry - these are factors, which have determined the increasing interest in skiing in Turkey. The capital of the skiing region is located at the foot of the Pontic Mountains Erzurum (approx. 360 thousand inhabitants) - a place with a rich past, interesting monuments and a unique atmosphere. In the city is the international airport, which guarantees quick and comfortable transfer to hotels in the ski stations. In 2011, the city was host to the 25th Winter Universiade, and in 2012 - the 45th FIS Nordic Junior World Ski Championships.
Approx. 5 km from Erzurum, in the east of the country, on the Armenian Uplands is one of the most famous Turkish ski areas - Palandöken. On the slopes there are 5 hotels, 4 of them are in ITAKA's offer: Dedeman Palandöken Ski Lodge, Dedeman Palandöken Ski Resort, Palan and the latest – Xanadu Snow White. The ski station features 22 ski runs, including two FIS slalom runs: Ejder and Kapikaya. The difference between the upper and lower ski lift stations is approx. 1000 m. 8 ski lifts operate on the slopes: 1 gondola - the first in Turkey, built in 1998, approx. 3.2 km long, 6 chairlifts, 1 T-bar lift and 2 baby lifts. This is one of the highest regions of Turkey. The ski season here lasts 150 days, the best conditions prevail during the period from mid-December to mid-May. The trails lie at an altitude of 2220-3176 m a.s.l. On average, each winter snowfall amounts to 2-3 m. Due to the continental climate and height, the snow here is of superb quality: fine and dry, ideal for skiers. Most of the trails are led on wide open slopes, divided by a central ridge, with exposure to the north or north-east.
The organisation of ski lifts is different than in European ski stations. Some of the lifts belong to hotels, while others are additionally payable. The system also operates in other Turkish regions. The second ski area around Erzurum is Konakli Alp Disiplini Kayak Tesisi, located approx. 18 km from Erzurum. Built for the needs of the Winter Universiade in 2011, it is a modern complex with well-marked and secured ski runs, with 6 chair lifts, with a super-G, giant slalom and other combinations of Alpine ski trails. Konakli guarantees not only excellent conditions even for the most advanced skiers, but also thanks to its attractive location - wonderful views on Erzurum situated in a valley and the picturesque surroundings. Here in Konakli where snow is the fluffiest, and thanks to the newly built road, it is easy to get here from the region of Paland
Overall Rating:
4,8 / 6
148 reviews
98% rated good or very good
Appreciated by our clients:
Location
Good food
Service
ERZURUM CITY TOUR – the city was founded in Roman times and formerly called Theodosiopolis. Exploring one of the oldest mosques in Erzurum, the Koranic school Yakutiye Medresesi from 1310. Lunch at a local restaurant. Then in the programme: the fortress above the city along with the clock tower and shopping for traditional Turkish Halva and other delicacies. Half-day trip. Price - approx. 35 EUR (includes entry tickets, lunch; drinks additionally payable).
KONAKLI – ski resort Konakli Alp Disiplini Kayak Tesisi, located approx. 18 km from Erzurum. Price - approx. 15 EUR (includes transport, ski pass additionally payable: approx. 20 EUR/day).
SARIKAMIS – white madness in the region of Sarikamis. The region is approx. 135 km from Erzurum, located at an altitude of approx. 2634 m a.s.l., it is surrounded on all sides by a yellow pine forest. Due to afforestation, the slopes here are extremely charming and create a fabulous scenery. The specific climate of the place makes the winters here long, and snow is practically guaranteed. There are 3 chairlifts available by trails of varying levels of difficulty. Price -approx. 70 EUR (includes lunch + 15 rides, drinks additionally payable).
CURLING – an opportunity to play in the modern winter sports centre in Erzurum, where the in 2012 Mixed Curling World Championships took place. Price – approx. 25 EUR.
SHISHA – it is worth experiencing this! An evening with a shisha in the unforgettable scenery of the old historic houses of Erzurum. Afternoon trip. Price - approx. 25 EUR.
ICE-SKATING RINK – an opportunity to ice-skate on a real ice-skating rink. Price – approx. 20 EUR.
Local excursions are organized by local travel agencies under the conditions fixed by them. It's possible to disorganize trips due to low number of applicants.