Wakacje Arabba - Marmolada
- wczasy i wycieczki
In brief
Marmolada - the Queen of the Dolomites
Arabba - famous ski resort
60 km of trails of varying difficulty
Pista Bellunese - the longest trail in the Eastern Dolomites
Dolomiti Superski ski area
World War I trail
skiing on the glacier
Arabba Superpark snowpark
See offer
Narty (1)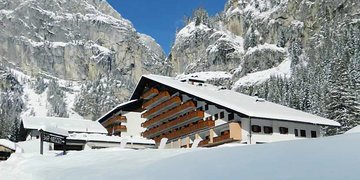 View photos
active holiday with the family
indoor pool and sauna
comfortable rooms
close to the lifts
Arabba - Marmolada is a ski region that is extraordinarily popular due to the picturesque location of pistes around the majestic Massif of Marmolada, the highest peak in the Dolomites. Marmolada - means "shiny", which comes from the glacier in the northern part of the peak, it is called the "Queen of the Dolomites". Every year hundreds of tourists, both Italian and foreign skiers, come here to try out the real ski craze on the glacier.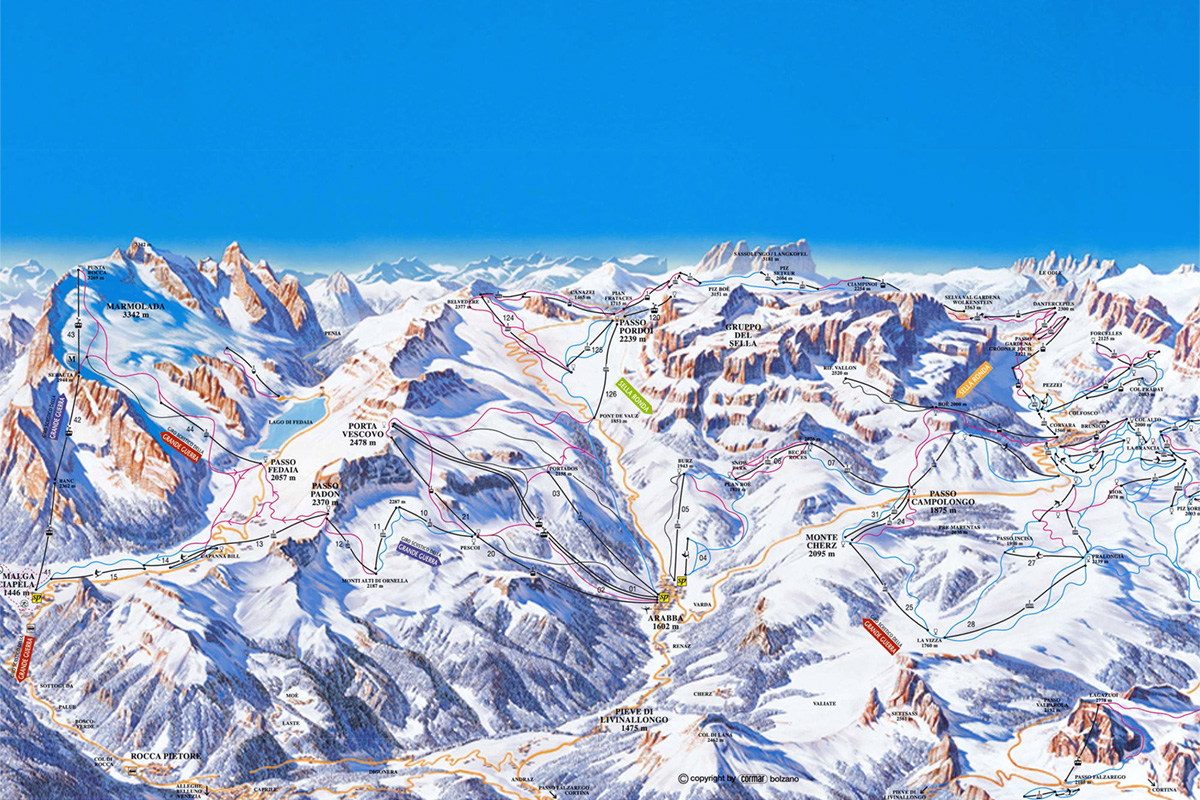 Download map in full resolution


Pilot: tourists are looked after by a Polish resident, whose tasks include help upon arrival, departure and stay, as well as registration for local trips. Depending on the number of clients, the resident may live in a place that is fairly distant from others, so direct contact with the resident will not always be possible.
Flight duration: Poland-Verona - approx. 1h 10 min.
Local time: GMT +1.
Language: Italian; communication in English and German is also possible.
Voltage: 220 V.
Currency: Euro (EUR).
Prices in the hotel and restaurant: lunch – from 15 EUR, soft drink – approx. 2 EUR, beer – approx. 3 EUR, wine – approx. 4 EUR.
Transport: taxi - approx. 15 EUR, ski buses - from approx. 3-5 EUR.
Visitor's tax: in Italy a visitor's tax is required to be paid in each hotel when checking in or checking out - approx. 1-2 EUR person/day.

You can always find up to date information about security in this country on your Ministry of Foreign Affairs website.
SKI SEASON – Arabba - Marmolada:
December-April
SKI TRAILS:
Location: 1100-3243 m a.s.l.
Total length of ski trails: approx. 40 trails approx. 60 km long in total (approx. 30 km of easy trails, approx. 20 km - medium, approx. 10 km - difficult).
Trails with snowmaking: lower parts of trails are snowmade.
SKI LIFTS:
Types and number of ski lifts: 28 ski lifts: 7 gondola lifts, 16 chairlifts and 5 T-bar lifts.
Total capacity of ski lifts: 1,200 people/h.
SKI PASS PRICES (FOR 6 DAYS):
Arabba - Marmolada:
low season: adults approx. 215 EUR/person, children approx. 155 EUR/person.
high season: adults approx. 250 EUR/person, children approx. 175 EUR/person.
Dolomiti Superski
(total of 1220 km of downhill trails and 450 ski lifts in 12 resorts):
in low season: adults - approx. 225 EUR/person, children - approx. 160 EUR/person.
in high season: adults - approx. 280 EUR/person, children - approx. 195 EUR/person.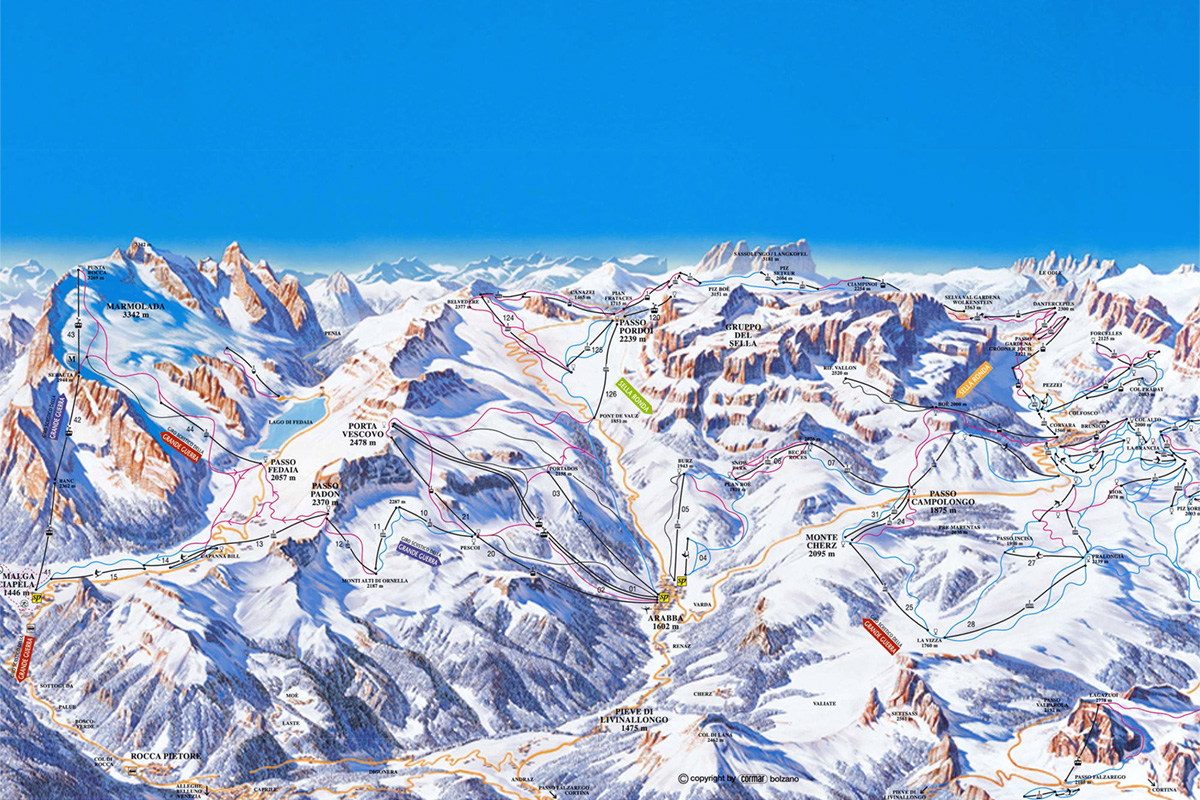 Download map of routes in full resolution.