Wakacje Val di Sole
- holidays and trips
In brief
the largest ski area in the western part of Trentino
connection with Madonna di Campiglio
modern lifts and varied routes
perfectly prepared ski resorts
ski in/out
fun parks in Folgarida-Marilleva and Passo Tonale
a region loved by Polish skiers
very good road connection Polish with the south of Poland, hotel reservation with own transport own also possible
See offer
Great skiing conditions and various ski runs, modern lifts, communicated ski terrains, modern ski stations on the slopes and scenic Alpine villages. The Valley of the Sun is an ideal proposition both for a family holiday, and fantastic, technically challenging ski runs, which are a challenge even for advanced skiers.
Val di Sole is the largest ski region in the western part of Trentino. It has a total of 360 km of ski runs supported by 140 ski lifts. The Valley of the Sun lies in the western part of the Dolomites. Marilleva and Folgarida, connected by a system of ski runs and lifts with Madonna di Campiglio, they constitute the largest ski terrain of Val di Sole: 140 km of ski runs connected by 44 lifts. The ski runs are very picturesque, many of them run through forests, and almost 90% have snowmaking, and the possibility of getting to the slopes of Madonna from here without taking off your skis has added a completely new quality
Marilleva and Folgarida are ski stations from a test-tube, which were created at the end of the 1960s. There is no typical Alpine architecture here which is encountered in other regions of Val di Sole: concrete, aluminium and glass, characteristic structures of pavilions cuddled into the slopes - this is a typical view for Marilleva 1400. But here there is something skiers like most: skis straight from the door and return on skis to the door of the hotel. Below, opposite Mezzana, lies the more cosy Marilleva 900. The tiny Folgarida lies close to the Alpine village Dimaro, by the road to Madonna di Campiglio, to where it is only 8 km. There are a few hotels and residences with apartments here. One of the most well-known ski runs is Nera Folgarida 1850 m long and with an altitude difference 554 m. Snow parks await for enthusiasts of snowboarding on the terrains of Folgarida-Marilleva and at Passo Tonale approx. 20 km away.
The most rapidly growing area of Val di Sole is Pejo. Recently, a modern gondola lift was built there. Still not as popular as other resorts of Val di Sole, it is an ideal offer for those who want to combine a ski holiday with a quiet rest after skiing.
 
Pilot: tourists are looked after by a Polish resident, whose tasks include help upon arrival, departure and stay, as well as registration for local trips. The resident may live in a place that is fairly distant from others, so direct contact with the resident will not always be possible.
Flight duration: Poland-Verona - approx. 1h 10 min.
Local time: GMT +1.
Language: Italian; communication in English and German is also possible in some places.
Voltage: 220 V; you can buy an adapter in stores (for approx. 2-3 EUR).
Currency: Euro (EUR).
Prices in the hotel and restaurant: lunch – from 15 EUR, soft drink – approx. 2 EUR, beer – approx. 3 EUR, wine – approx. 4 EUR.
Transport: ski buses - from approx. 3-5 EUR.
Visitor's tax: in Italy a visitor's tax is required to be paid in each hotel when checking in or checking out - approx. 1-2 EUR person/day.
Insurance: as of 1 January 2022, every individual using the ski slope is required to purchase liability insurance for accidents on ski slopes. The verification of the insurance takes place on the basis of presenting the insurance certificate or policy number. Lack of insurance policy shall result in cancellation of the ski pass and a fine in the amount of EUR 100-150. The price of the event includes the Itaka Simple insurance, which does not cover liability insurance for amateur practicing of high-risk sports. Purchasing Itaka Complex, Itaka Prestige or SKI&SPORT insurance, which can be added to the booking at any time prior to the beginning of the event, is tantamount to compliance with the above requirement.
SKI SEASON – VAL DI SOLE:
December – April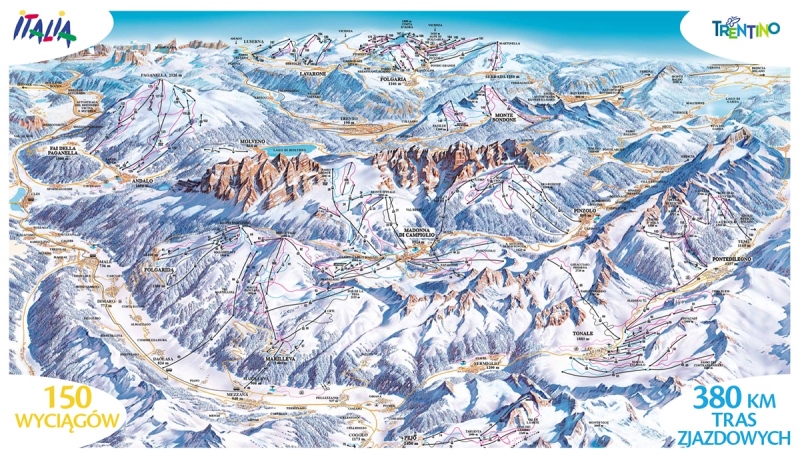 Download map in full resolution
SKI TRAILS:
Folgarida, Marilleva:
Location: 1300-2179 m a.s.l.
Total length of ski trails: approx. 54 km of ski trails (4 difficult trails, 11 medium, 18 easy).
Trails with snowmaking: approx. 80 km.
SKI LIFTS:
Types and number of ski lifts: 26 lifts (6 cabin cables, 15 chairlifts, 5 T-bar lifts).
Total capacity of ski lifts: 36,000 people/h.
SKI SCHOOLS: 5.
SKI TRAILS:
Pejo:
SKI TRAILS:
Location: 1160-2000 m a.s.l.
Total length of ski trails: approx. 18 km of ski trails (1 very difficult trail, 6 difficult, 6 easy).
Night trail: approx. 1 km.
SKI LIFTS:
Types and number of ski lifts: 6 lifts (1 gondola cable car, 1 cabin cable car, 4 chair lifts)..
SKI PASS PRICES (for 6 days):
Superskirama (380 km of ski runs in the western Dolomites in Madonna di Campiglio, Pinzolo, Folgarida and Marilleva, Ponte di Legno, Tonale, Presena, Pejo, Monte Bondone, Andalo, Fai della Paganella, Folgaria Lavarone): 
low season: adults approx. 245 EUR/person, children approx. 175 EUR; 
high season: adults approx. 280 EUR/person, children: 195 EUR/person.