Wakacje Via Lattea
- holidays and trips
In brief
5 Italian stations connected in one huge ski complex
all on one pass
perfect conditions for cross-country skiing and snowboarding
4 snowparks
203 slopes with a total length of over 400 km
many après ski attractions: clubs, restaurants and shops
infrastructure at Olympic standard
See offer
A paradise for skiers and enthusiasts of winter sports! Via Lattea, i.e. Milky Way, is one of the greatest and most attractive ski regions in the Italian Alps.
Located in Val di Susa in north-western Piedmont, it attracts thousands of tourists each year with its ski terrains. The infrastructure has been significantly developed for the needs of the Winter Olympics in Turin in 2006. Via Lattea is a huge complex of connected trails and ski lifts, consisting of 5 ski areas: Sauze d'Ouix, Sestriere, Sansicario, Cesana/Claviere and the French Montgenèvre. The ski season lasts from December until April and is characterized by a mild climate, which guarantees snow and sunny weather. There are 400 km of varied and perfectly prepared pistes, including some international trails.
Ski passes are available that allow you to ride around the entire complex, including the French resort of Montgenèvre. There are 203 trails of different degrees of difficulty. Intermediate ski trails prevail, there are 111 of them with a total length of 400 km. Trails have been prepared both for beginners, intermediates and experts. In the region there are four Olympic pistes, which have the official certification of the International Ski Federation. The famous lit-up Kandahar slope, 1.5 km long, is a great attraction especially for enthusiasts of late-night skiing. Lovers of cross-country skiing will also find something for themselves in the 25 km of cross-country trails. The extensive system of efficient and modern ski lifts enables skiers and snowboarders to move around efficiently around the Milky Way complex. The ski lifts are able to transport 110 thousand people per hour.
There are 68 ski lifts, including 39 is chairlifts and 3 gondola lifts. Constant modernization of the slopes and the largest structure of snowmaking in the Alps, with over 900 snow guns, guarantees high quality of slopes for the whole ski season. In the whole region 12 ski and snowboard schools operate with more than 600 instructors. Four snowparks await snowboarding enthusiasts, which are equipped with numerous ski jumps, funboxes and handrails. ViaLattea is also great Après-ski. A swimming pool, an ice rink, fitness centres and saunas provide relaxation after a busy day on the slopes. Numerous restaurants, bars and nightclubs add variety to the winter holiday. After-skiing entertainment is also ensured by shopping in boutiques and shops. Every fan of winter fun will find something for themselves, from hiking, riding on snowmobile, to a helicopter ride over the mountains and skiing in wild places.
The most beautiful and highest situated town of the Via Lattea complex is Sestriere, called the queen of downhill skiing. One of the most popular villages in the Italian Alps already in the 1930s became the international centre for skiing. It is a regular host of the FIS Alpine World Ski Championships, making the ski infrastructure of the highest standard. In 1997 the Winter World Championships were held here, and in 2006, the resort turned into an Olympic village. Sestriere lies at an altitude of 2035 m above sea level at the foot of Monte Motta, only 17 km from the French border. It has excellent ski trails, beautifully sunny slopes and, what's important, it is not crowded. There are ideal conditions for snowboarding and cross-country skiing here. The village is connected to all the ski runs of the ViaLattea complex.
On site there is a very wide sports and cultural offer. In the centre of the resort there is an ice-skating rink, and for enthusiasts of the local cuisine there are many restaurants and bars. The very well developed accommodation base provides an enjoyable holiday for even the most demanding guests. Sestriere is a great proposition for people who are looking for comfort and entertainment at the highest standard, and who want to get into the skiing madness.
Pilot: tourists are looked after by a Polish resident, whose tasks include help upon arrival, departure and stay, as well as registration for local trips. Depending on the number of clients, the resident may live in a place that is fairly distant from others, so direct contact with the resident will not always be possible. Flight duration: Poland-Turin - approx. 1.5 hours.
Local time: CET.
Language: Italian; communication in English and German is also possible.
Voltage: 220 V.
Currency: Euro (EUR).
Prices in the hotel and restaurant: lunch – from 15 EUR, soft drink – approx. 2 EUR, beer – approx. 3 EUR, wine – approx. 4 EUR.
Transport: taxi - approx. 15 EUR, ski buses - from approx. 3-5 EUR.
Visitor's tax: in Italy a visitor's tax is required to be paid in each hotel when checking in or checking out - approx. 1-2 EUR person/day.
Insurance: as of 1 January 2022, every individual using the ski slope is required to purchase liability insurance for accidents on ski slopes. The verification of the insurance takes place on the basis of presenting the insurance certificate or policy number. Lack of insurance policy shall result in cancellation of the ski pass and a fine in the amount of EUR 100-150. The price of the event includes the Itaka Simple insurance, which does not cover liability insurance for amateur practicing of high-risk sports. Purchasing Itaka Complex, Itaka Prestige or SKI&SPORT insurance, which can be added to the booking at any time prior to the beginning of the event, is tantamount to compliance with the above requirement.
SKI SEASON - VIA LATTEA:
December-April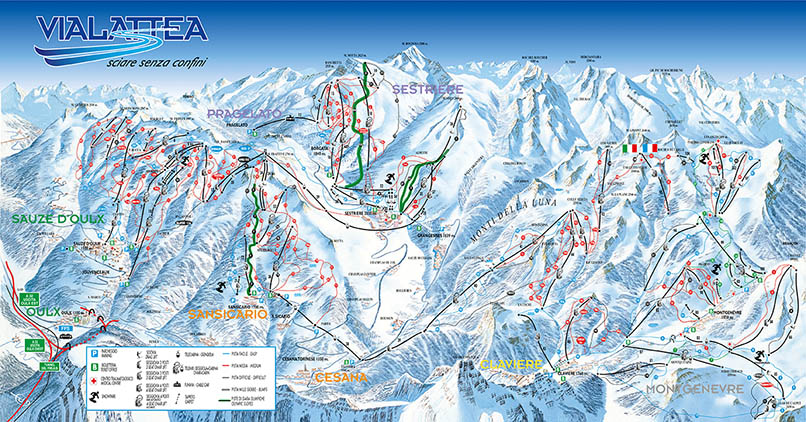 Download map in full resolution
SKI TRAILS:
Location: 1360-2823 m a.s.l.
Total length of ski trails: 203 downhill trails 400 km long in total: 52 trails for beginners (95 km), 111 trails for intermediate (220 km), 40 trails for advanced (85 km).
Trails with snowmaking: 60% (900 snow guns).
SKI LIFTS:
Types and number of ski lifts: 68 lifts (6 gondola, 39 chairlifts, 23 T-bar lifts).
Total capacity of ski lifts: 110,000 people/h
SKI SCHOOLS:
12 ski schools with over 600 instructors.
SKI PASS PRICES (for 6 days):
in high season: adults and children: approx. 200 EUR/person
in low season: adults and children approx. 190 EUR/person.