Wakacje Folgaria
- holidays and trips
In brief
known and popular ski resort - perfect for families
routes for skiers of varying skill levels
all routes with artificial snow
perfect conditions for cross-country skiing
approx. 50 km of slopes
a lot of après ski attractions - near Verona airport (short transfer)
See offer
Well-known among skiers, one of the largest ski stations in the south-eastern part of Trentino. Folgaria attracts with great views of the southern ranges of the Dolomites and excellent routes of varying difficulty. It is a terrific base for those who like various forms of winter activity, not just skiing and snowboarding, but also Nordic walking, snow shoes, or mad fun on the toboggan. Here there are also apres ski attractions: restaurants and ambient bars serving local delicacies, and numerous objects of a sport and entertainment character.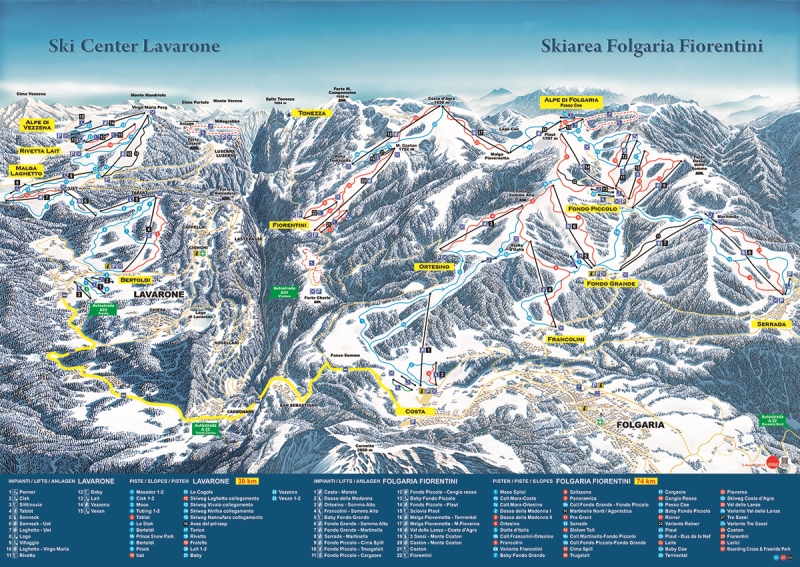 Pobierz mapę tras w pełnej rozdzielczości


Pilot: tourists are looked after by a Polish resident, whose tasks include help upon arrival, departure and stay, as well as registration for local trips. Depending on the number of clients, the resident may live in a place that is fairly distant from others, so direct contact with the resident will not always be possible.
Flight duration: Poland-Verona - approx. 1h 10 min.
Local time: GMT +1.
Language: Italian; communication in English and German is also possible.
Voltage: 220 V.
Currency: Euro (EUR).
Prices in the hotel and restaurant: lunch – from 15 EUR, soft drink – approx. 2 EUR, beer – approx. 3 EUR, wine – approx. 4 EUR.
Transport: taxi - approx. 15 EUR, ski buses - from approx. 3-5 EUR.
Visitor's tax: in Italy a visitor's tax is required to be paid in each hotel when checking in or checking out: approx. 1-2 EUR/person/day.
Insurance: as of 1 January 2022, every individual using the ski slope is required to purchase liability insurance for accidents on ski slopes. The verification of the insurance takes place on the basis of presenting the insurance certificate or policy number. Lack of insurance policy shall result in cancellation of the ski pass and a fine in the amount of EUR 100-150. The price of the event includes the Itaka Simple insurance, which does not cover liability insurance for amateur practicing of high-risk sports. Purchasing Itaka Complex, Itaka Prestige or SKI&SPORT insurance, which can be added to the booking at any time prior to the beginning of the event, is tantamount to compliance with the above requirement.
SKI SEASON – Folgaria:
December- April
SKI RUNS - Folgaria:
Location: 1100-1850 m a.s.l.
Total length of ski routes: approx. 74 km: easy (30 km), medium (40 km), difficult (4 km).
Trails with snowmaking: 100%.
SKI LIFTS:
Types and number of ski lifts: 28 ski lifts: 1 gondola, 17 chairlifts, 10 T-bar lifts.
Total capacity of ski lifts: 40,000 people/h
SKI SCHOOLS: 4
SKI PASS PRICES (FOR 6 DAYS):
low season: adults approx. 190 EUR/person, children approx. 135 EUR/person.
high season: adults approx. 210 EUR/person, children approx. 145 EUR/person.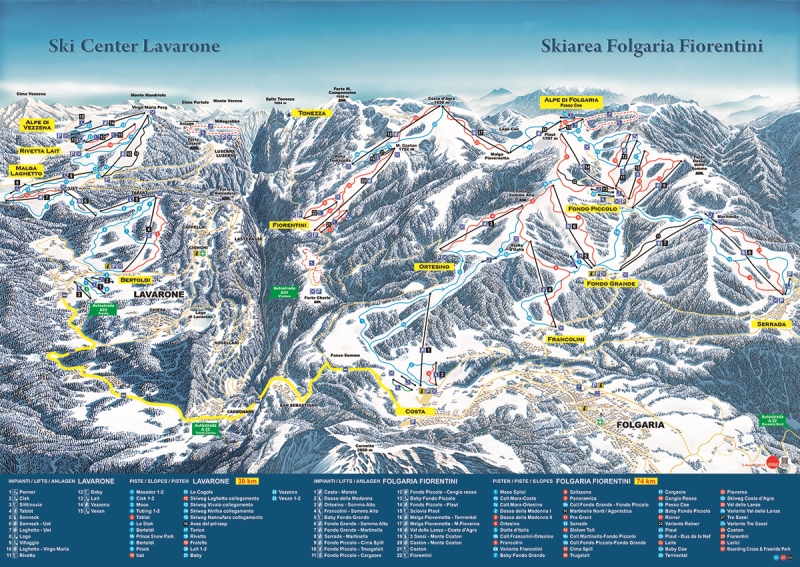 Download map of routes in full resolution.