Wakacje Kronplatz
- holidays and trips
In brief
terrifically prepared ski infrastructure
downhill slopes of varying difficulty
well-equipped snow parks
very diverse ski area
friendly for families with children
postcard views
an extensive spa and wellness offer
See offer
An excellent ski resort located in the south of Tyrol on Plan de Corones with a distinctive, dome-shaped, treeless peak, from where the wide pistes extend for over 100 km. It is surrounded by several holiday resort villages and the medieval town of Brunico. It is also one of the world's largest cross-country skiing centres in Antolzer Valley. The extensive sports and recreational facilities and numerous wellness centres provide many attractions to even the most demanding tourists.
Pilot: tourists are looked after by a Polish resident, whose tasks include help upon arrival, departure and stay, as well as registration for local trips. Depending on the number of clients, the resident may live in a place that is distant from others, so direct contact with the resident will not always be possible.
Flight duration: Poland-Verona - approx. 1h 10 min.
Local time: GMT +1.
Language: Italian; communication in English and German is also possible.
Voltage: 220 V.
Currency: Euro (EUR).
Prices in the hotel and restaurant: lunch – from 15 EUR, soft drink – approx. 2 EUR, beer – approx. 3 EUR, wine – approx. 4 EUR.
Transport: taxi - approx. 15 EUR, ski buses - from approx. 3-5 EUR.
Visitor's tax: in Italy a visitor's tax is required to be paid in each hotel when checking in or checking out - approx. 1-2 EUR person/day.
Insurance: as of 1 January 2022, every individual using the ski slope is required to purchase liability insurance for accidents on ski slopes. The verification of the insurance takes place on the basis of presenting the insurance certificate or policy number. Lack of insurance policy shall result in cancellation of the ski pass and a fine in the amount of EUR 100-150. The price of the event includes the Itaka Simple insurance, which does not cover liability insurance for amateur practicing of high-risk sports. Purchasing Itaka Complex, Itaka Prestige or SKI&SPORT insurance, which can be added to the booking at any time prior to the beginning of the event, is tantamount to compliance with the above requirement.
SKI SEASON – KRONPLATZ:
December-April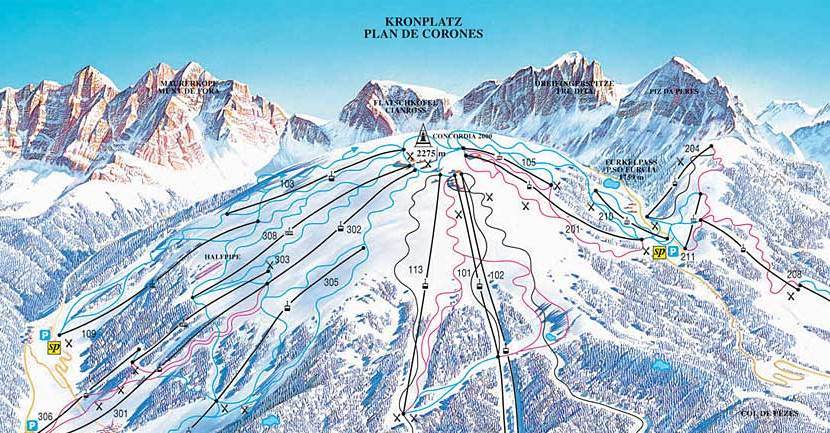 Download map in full resolution
SKI TRAILS:
46 routes, a total of 116 km of pistes of varying difficulty.
SKI LIFTS:
33 lifts: 22 gondolas, 5 chairlifts, 6 T-bar lifts.
SKI SCHOOLS: 2
SKI PASS PRICES:
Dolomiti Superski (total of 1220 km of downhill trails and 450 ski lifts in 12 resorts):
in low season: adults - approx. 242 EUR/person, children - approx. 170 EUR/person;
in high season: dadults - approx. 275 EUR/person, children - approx. 193 EUR/person.
Folgarida-Marilleva (approx. 140 km downhill trails):
in low season: adults - approx. 165 EUR/person, children - approx. 115 EUR/person;
in high season: adults - approx. 275 EUR/person, children - approx. 193 EUR/person.