Wakacje Maso Corto - Val Senales
- holidays and trips
In brief
Val Senales – well-known and liked Italian resort, popular among Polish skiers
many apres ski attractions
excellent conditions for snowboarders – snowpark and halfpipe
guaranteed snow on the glacier – 9 km of ski runs and 6 lifts
20 km of runs for enthusiasts of cross-country skiing
hotels located near the bottom stop of the cable railway going up the glacier
See offer
Narty (26)
Snowpark and halfpipe. Guaranteed snow on the iceberg. A favourite place of Polish skiers. Almost 40 km of trails of varying difficulty, beautiful views of the surrounding Alps, great conditions both for skiers and snowboarders, as well as a great atmosphere attracting to Val Senales enthusiasts of winter sports, among whom Poles are second.
Val Senales (Germ. Schnalstal) is a valley at an altitude of over 2000 m above sea level at the foot of Hochjoch Glacier (3280 m a.s.l.), in South Tyrol - the region of castles, vineyards and scenic mountains in the region of Ötztaler Alpen, close to the Austrian border. You can enjoy skiing here almost all year round, and the season lasts from October to May. Val Senales is one of the more famous and popular resorts in Italy, very popular also among Polish skiers, who in the valley are the second nation on the trails, after the Italians. After German (the language of South Tyrol), Italian and Ladin - Polish can be heard here increasingly. There are Polish signs, many ski instructors speak Polish. Val Senales is great snow conditions and very well prepared pistes.
There are 9 km of downhill trails and 6 ski lifts on the glacier. An advantage of the glacier is the snowpark with a half-pipe at the very top, as well as the floodlit downhill run in the evenings. In the winter there are 37 km of trails available for skiers, on which a cabin lift operates, as well as 7 chairlifts and 5 T-bar lifts, with a total capacity of 11 460 people per hour. To all of this there are approx. 20 km of trails for enthusiasts of cross-country skiing. Thanks to the excellent conditions, Schnalstal is often chosen for training of national representations, it is liked by advanced skiers, as well as families who prefer an active holiday.
The main villages of the region are Maso Corto (Kurzras) 2011 m a.s.l. and Unserfrau (1500 m a.s.l.). In Madonna Di Senales, where there is an archaeological museum opened in 2001 devoted to the "ice man" - Ötzi, a hunter from 5000 years ago, whose frozen, very well-preserved body was found on Hochjoch glacier in 1991, which relates to the legend of the "Ice Mummy's curse". Maso Corto (Ger. Kurzras), a picturesque alpine village at the outlet of Val Senales, at the foot of Palla Bianca (3738 m a.s.l.) is located approx. 60 km from Bolzano and approx. 35 km from the spa town of Merano. In Poland it has become popular thanks to 8 editions of "Maso Corto Polish Days", promoting active leisure.
For tourists there are many attractions here: skiing and snowboarding on Hochjoch almost all year round, great conditions for carving, telemark, trekking, half-pipe on the glacier, hang gliding with skis, sledging trails approx. 3.3 km long, as well as a 25-m swimming pool, saunas, a disco. It takes only 6 minutes by ski lift to get from 2000 m a.s.l. to the glacier at 3200 m a.s.l., where winter lasts all throughout the year. A lift that can fit approx. 80 people at once, operates between 8.30-16.30 in the winter. A fantastic 8-km long trail passes through Corteraso Valley (Kurzraz), the difficult and steep Schmugglerrinne; apparently in the past it served Alpine smugglers.
In Maso Corto on the glacier the first snow-rafting slope in Italy was built, where one rides down on a specially prepared single or multi-person dinghy. On the slopes there are several hostels, where it is worth trying the bombardino, as well as the tasty and nutritious dishes of the Italian-Austrian cuisine. Apres-ski you can spend in the disco K2, Bussi Bar by the ice queue or Leo's Pub.
Pilot: tourists are looked after by a Polish resident, whose tasks include help upon arrival, departure and stay, as well as registration for local trips. Depending on the number of clients, the resident may live in a place that is fairly distant from others, so direct contact with the resident will not always be possible.
Flight duration: Poland-Verona - approx. 1h 10 min.
Local time: GMT +1.
Language: Italian; communication in English and German is also possible.
Voltage: 220 V.
Currency: Euro (EUR).
Prices in the hotel and restaurant: lunch – from 15 EUR, soft drink – approx. 2 EUR, beer – approx. 3 EUR, wine – approx. 4 EUR.
Transport: taxi - approx. 15 EUR, ski buses - from approx. 3-5 EUR.
Visitor's tax: in Italy a visitor's tax is required to be paid in each hotel when checking in or checking out: approx. 1-2 EUR/person/day.
Insurance: as of 1 January 2022, every individual using the ski slope is required to purchase liability insurance for accidents on ski slopes. The verification of the insurance takes place on the basis of presenting the insurance certificate or policy number. Lack of insurance policy shall result in cancellation of the ski pass and a fine in the amount of EUR 100-150. The price of the event includes the Itaka Simple insurance, which does not cover liability insurance for amateur practicing of high-risk sports. Purchasing Itaka Complex, Itaka Prestige or SKI&SPORT insurance, which can be added to the booking at any time prior to the beginning of the event, is tantamount to compliance with the above requirement.
SKI SEASON – MASO CORTO-VAL SENALESA:
October - May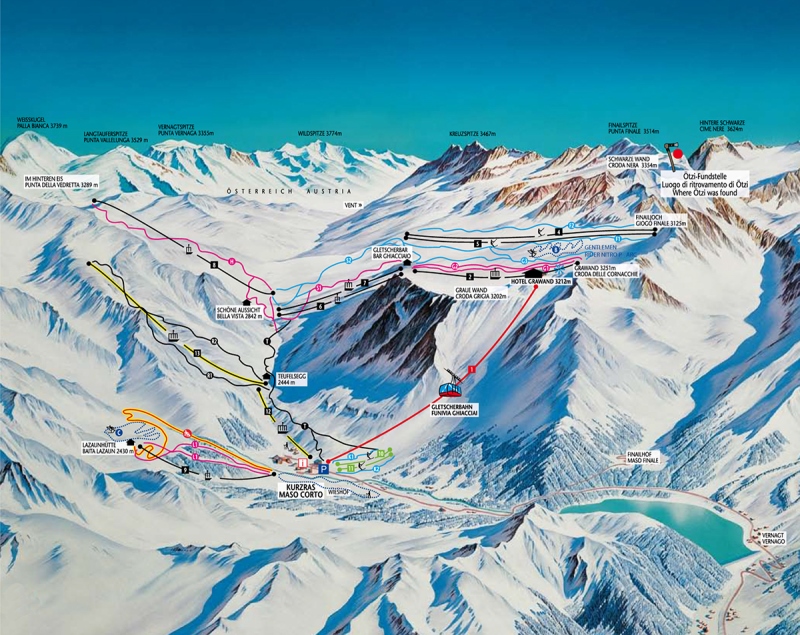 Download map in full resolution
SKI TRAILS:
Location: 2000-3212 m a.s.l.
Total length of ski trails: 15 trails approx. 37 km long in total (8 km difficult, 14 medium, 15 easy).
Trails with snowmaking: 7 km, 15 snow guns.
SKI LIFTS:
Types and number of ski lifts: 13 lifts (1 cabin cable, 7 chairlifts, 5 T-bar lifts).
Total capacity of ski lifts: 11,460 people/h
SKIPASS PRICES:
adults: in low season: 6 days - from approx. 195 EUR/person, in high season: 6 days - from approx. 240 EUR/person;
children: in low season: 6 days - from approx. 140 EUR/person, in high season: 6 days - from approx. 170 EUR/person.