Wakacje Tuscany
- holidays and trips
In brief
elegant Riviera della Versilia
Etruscan Coast and mysterious past
the magical, luxurious Elba
the most famous cities of art
small towns in the hills
See offer
Holidays (1)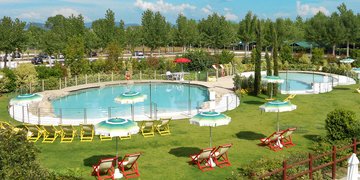 View photos
polecany dla rodzin z dziećmi
bogaty program animacji dla całej rodziny
przestronne domki z aneksami kuchennymi
2 baseny
piaszczysta plaża
One-of-a-kind, unique, charming with towns in the hills, rows of cypresses and amazing light emphasizing her beauty. Perpetuated for centuries by artists. Tuscany is also a beautiful coastline with the famous Riviera della Versilia and beaches with views of the Apuan Alps, Etruscan Coast with souvenir of the mysterious former inhabitants, as well as the magical Elba, one of the most luxurious Italian islands.
Visitor's tax: obligatory fee collected upon check-in: approx. 3-4.5 EUR//day/adult and children over 12 y.o.; campsites: approx. 2 EUR/day/person.
Beaches: public, beach service (umbrella + 2 sunbeds): from approx. 15 EUR/day to even 50 EUR and more, prices vary depending on the swimming area and distance from the sea.

You can always find up to date information about security in this country on your Ministry of Foreign Affairs website.