Wakacje La Gomera
- holidays and trips
In brief
unique bay laurel forest in Garajonay National Park
unique climate of colonial structures in the capital of the island - San Sebastian
gorgeous, untouched landscapes and peaceful atmosphere, and hospitable residents
more than 200 km of trekking and bike routes
tasty local cuisine, famous for fish and excellent sweets
See offer
Holidays (1)
Last Minute (1)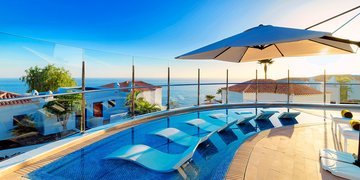 View photos
located on a cliff with a gorgeous view
in the style of a Canarian village
swimming pools, tennis courts and golf course
salsa lessons and Spanish lessons
Geologists estimate that the island is 12 million years old. Despite the fact that it is very small (approx. 370 km2), it has a very diverse nature. The terrains in close proximity to the sea are characterized by a barren, almost desert-like landscape. The most spectacular attraction of the coast of La Gomera are the majestic cliffs of Los Organos. Towering vertically from the ocean, they make an impression of the unconquerable.
When we go further inland, we come across extremely lush vegetation. Like the neighbouring Tenerife, La Gomera also has climatic and geological differences between the north and south. The northern part of the island is charming green gorges filled with banana plantations, palm trees and tiny villages embedded into the landscape. The southern part of the island attracts good weather almost all year round. For this reason, there are two resorts there: Playa Santiago and Valle Gran Rey. The largest and most well-known attraction of the island is without doubt the bay laurel and cedar forest. Today, it is protected and closed within the borders of Garajonay National Park. The atmosphere of this place is really remarkable, almost mystical. Unique shapes of trees and greenery cloaked in fog can give visitors the goosebumps.
The island has a population of only 20 thousand residents, extremely friendly and helpful. The capital city of the island, San Sebastian de la Gomera, consistently maintains the historic layout of the streets and city centre. In this respect it has not changed practically at all since the time that Christopher Columbus stopped here during one of his expeditions. This town of 6 thousand residents, full of charming narrow streets, is the perfect place for lazy and peaceful walks.
Important! Traveling during COVID-19 - mandatory FCS form
You must complete the FCS (Sanitary Control Form) before arriving in Spain.
Complete the form (https://www.spth.gob.es/)
Details and instructions (https://www.itaka.pl/bezpieczne-wakacje/#hiszpania)


Pilot: tourists are looked after by a Polish resident via telephone in Tenerife.
Flight duration: Warsaw-Tenerife - approx. 5 hours; ferry passage: Tenerife - La Gomera: approx. 1 hour
Local time: GMT
Language: Spanish; communication in English and German is also possible.
Capital of the island: San Sebastian de La Gomera.
Voltage: 220 V.
Currency: Euro (EUR).
Prices in the hotel and restaurant: lunch – from 16 EUR, water – approx. 3 EUR, beer – approx. 2 EUR, wine – approx. 10 EUR.
Transport: quite efficient and inexpensive (taxi, local buses).
Beaches: free entry; beach service (2 sunbeds + umbrella) – approx. 15 EUR/day.

You can always find up to date information about security in this country on your Ministry of Foreign Affairs website.