Wakacje Finike
- holidays and trips
In brief
stunning views of the mountains and charming bays
calm, picturesque surroundings
close to the island of Kekova and the "Turkish Atlantis"
Patara and Kaputas
some of the most beautiful beaches in Türkiye
famous ancient cities
See offer
All Inclusive (1)
Holidays (1)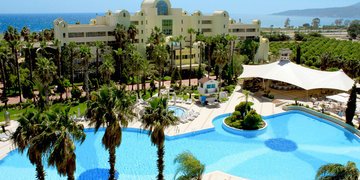 View photos
family relaxation
right next to the beach
miniclub, minidisco and cinema for children
animations in Polish (15.06.22-15.09.22)
No one is in a hurry anywhere, there's also no racing after tourists of whom there are not too many in the town due to the small number of hotels, and the main source of income of residents is still agriculture and fishing. Yet nowhere else can you feel being in the real Türkiye, not as commercialized as other cities of the Turkish Riviera, wander the streets without being molested by desperate sellers, feel almost imperceptible.
At the same time, the surroundings combine freedom, the scenic beauty and charm of Aegean Türkiye, with the fame of the tourist mecca that the Turkish Riviera is, and just by staying here, you can see both faces of Türkiye. Finike is an ideal starting point for those wishing to see and visit the most - both for seekers of ancient treasures and for enthusiasts of gorgeous coves, and the most picturesque beaches in Türkiye. It is worth hiring a car and exploring the area, which will certainly show a completely different side of Türkiye, whose beauty can impress. Among the wealth of the remains of ancient cities, which you can encounter with almost every step, the most recommendable are Demre - Myra (the birthplace of St. Nicholas and the beautiful Lycian tombs), Parata with the ancient amphitheatre and one of the most beautiful beaches in Türkiye, Kekova, where you can take a cruise, enjoy the so-called "Turkish Atlantis" - a city, which after a powerful earthquake went under water (you can admire it from the deck of a boat or while diving). Other ancient cities available from here are Limyra, Arykanda, Phaselis and Olympos. Mount Chimera in Olympos is interesting, from where eternal flames come out, which are best admired after sunset. But these are not the only attractions of the region. For those who start to feel full with antiquity, we recommend the beautiful port in the town of Kas which is famous for its excellent fish restaurants. From here you can also go to one of he smallest Greek islands, Megisti, inhabited by only about 275 people, which is only 20 minutes by boat from the port in Kas, It is worth going there if only because there are few such opportunities in life, and the taste of retsina compensates for all the hardships of the journey. But for those who prefer to relax on the beach, the region offers two amazing opportunities to be on one of the most beautiful beaches in Türkiye. The first is Patara, a sandy beach surrounded by hills, impressive in size, stretching for several kilometres, where there is no hotel - so you will always find a spot here far away from others. The second, one of the most scenically situated beaches of Türkiye is the beach Kaputas, over which vertical cliffs rise.
Pilot: tourists are looked after by a Polish resident, whose tasks include help upon arrival, departure and stay, as well as registration for local trips.
Visas: required. Entry of Polish citizens into Türkiye is possible only with a valid passport and visa. It is not possible to enter Türkiye upon showing ID. The tourist visa is valid 90 days for a period of 180 days (the visa entitles to multiple border crossings).
In order to obtain a visa, the passport must meet the following requirements: - validity at entrance: 60 days from the date of expiry of the visa - min. one blank page.
The tourist visa can be obtained:
1) via ITAKA
TO. ITAKA offers mediation in obtaining a visa to Türkiye. The fee for the visa and mediation is 99 PLN/person and it is lower than the fee that must be paid when buying a visa at the airport in Türkiye. The visa can be purchased on the website moja.itaka.pl no later than 4 days before departure. Detailed instructions. The visa will be sent to the email address provided and will also be available in the zone moja.itaka.pl at the earliest 14 days before the departure date, but no later than 4 days before the departure date. Upon receipt of information about the visa it should be downloaded, printed and taken with you to the airport. If less than 4 days remain to departure, applying for a visa is possible only through the E-visa system (https://www.evisa.gov.tr/pl/).
2) online via the Internet platform E-visa.
A tourist visa can also be obtained via the E-visa system: https://www.evisa.gov.tr/pl/ The fee for the visa is 20 USD/person. The visa should be printed and taken with you to the airport.
3) or on site, at the airport
It is also possible to purchase a visa upon arrival in Türkiye at sales points at border crossing points (cost respectively: 30 USD/25 EUR/20 GBP/person, payable in cash). It is recommended to purchase visas via the electronic system. When crossing the Turkish border the person entering may be asked to submit valid medical insurance (for Itaka Tourist Agency Customers it is the travel document that contains the insurance certificate no.) or proof of means of subsistence. Holders of temporary passports cannot purchase a visa through the E-visa system nor at the border.
Local time: GMT+2
Language: Turkish; communication in English is also possible, more and more frequently in Polish.
Currency: Turkish lira (TRY); 1 EUR = approx. 18 TRY.
Tips: the rule applies that you give as much as you can afford. Earnings in Türkiye are low and tips are often a great financial help. It is customary to tip drivers on local trips and waiters - approx. 5-10%.
Flight duration: Poland–Antalya – approx. 3 h.
Prices: SIDE: beer – approx. 1.5 EUR, lunch – approx. 8 EUR; ALANYA: beer – approx. 2 EUR (in discos at the port approx. 4 EUR), lunch – approx. 10 EUR; KEMER: beer – approx. 2 EUR, lunch – approx. 10 EUR.
Air-conditioning: turned on only in the warmest months, from June to September. It often operates for more than half a day, because it is assumed that Guests will spend most of the day outside the hotel. In some hotels air-conditioning is individually steered, so it can function 24h.
All Inclusive: in Türkiye the offer covers only meals and local drinks in limited hours, usually from 10.00 to 23.00. Any extra benefits like sports, safety deposit boxes, massages, saunas, and even the mini-bar are additionally payable. Aside from imported drinks, freshly squeezed juices and Turkish coffee are additionally payable. All inclusive does not include the beach, unless it has been indicated otherwise in the hotel description.
Transport: operates very efficiently and is inexpensive, even from hotels far from the city centre it is easy to get there by dolmus, or local mini-bus. Fare price is approx. 1 EUR for 15 km. Taxis are equipped with meters. Prices are the same everywhere, 1 km costs approx. 1 EUR.
Beaches: generally entry to beaches is free, you only pay for renting sunbeds and umbrellas, the fee depends on the beach; the most expensive is Cleopatra's Beach (approx. 5 EUR); the eastern beach in Alanya and in Side is cheaper (approx. 3 EUR).
Noteworthy: in Türkiye the rule is that you cannot bring any drinks or fruit bought outside the hotel into room; in a tropical climate food spoils quite quickly, and insect may appear.
Local trips: organised by local tourist agencies on terms specified by them. There is a possibility, that if there are too few participants, a trip may be cancelled.

You can always find up to date information about security in this country on your Ministry of Foreign Affairs website.
Local excursions are organized by local travel agencies under the conditions fixed by them. It's possible to disorganize trips due to low number of applicants.
Local excursions are organized by local travel agencies under the conditions fixed by them. It's possible to disorganize trips due to low number of applicants.