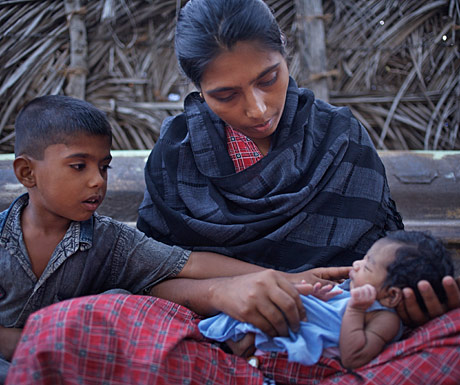 ITAKA supports UNICEF's 3-year programme aiding children in the 10 districts of Sri Lanka with the highest levels of child malnutrition.

UNICEF operates comprehensive programmes in Sri Lanka to help children. In order to effectively reach out to children in need, it cooperates with the Government, health centers and local NGOs. The aim of the programme is to reduce the proportion of malnourished children under 5 years of age by 1/5. The programme assumes equipping health centers with specialist medical equipment, basic medicines and high-calorie nutrients used in the treatment of child malnutrition.
One of them is the Plumpy'nut paste, which consists of peanuts with vegetable oil, milk powder, vitamins and minerals. 1 sachet has an energy value of 500 kcal. Three sachets a day is enough for a child to gain 1 kilogram in a week. In three weeks Plumpy'nut restores strength to even the most malnourished children. It is a very simple but very effective solution that UNICEF uses in the fight against child malnutrition in many developing countries.
An important element of the programme is also the training of local medical workers and community members in the principles of proper nutrition of children. A part of the problem of malnutrition among children is simply due to the fact that adults do not know how to feed their children and how to vary their diet.
The programme will also cover pregnant women and young mothers. Reducing anaemia in the former will help reduce the low birth weight of babies, and promoting breastfeeding will translate into proper development of babies and maintaining proper body weight in subsequent months of life.
ITAKA and UNICEF on SRI LANKA
From 27 January to 3 February 2011, together with the Director General of UNICEF Poland, Marek Krupiński, I had the pleasure and great satisfaction to participate in the ITAKA and UNICEF Poland's mission in Sri Lanka. more
Through us you can also support this project by declaring a voluntary contribution at the time of booking: online (in step 1 of the booking, by checking the following option in the additional services: "donation to UNICEF" and indicating the amount) and at any Itaka point of sale.