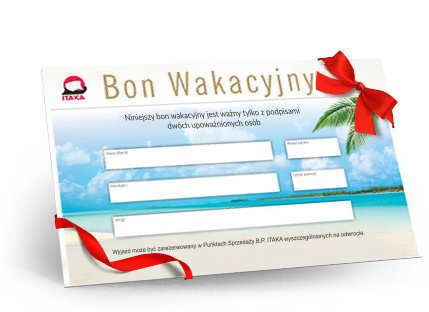 Are you looking for a way to acknowledge your employees and business partners for their work?
Or perhaps you need an idea for a wedding gift or you simply want to surprise a loved one?
To all those who would like to surprise someone, we are offering an opportunity to buy a Holiday Voucher, which will be valid for two years!
A voucher is the ideal gift for Customers, Employees or Winners of competitions organised by you. A Holiday Voucher enables the realisation of holiday dreams; it gives freedom in choosing offers: date, type and destination. You can't go wrong with a gift like this!
Nowa Itaka sp. z o.o.
Department of Groups, Conferences and Incentive
ul. 17-go stycznia 56 (IV piętro)
02-146 Warszawa
tel. (22) 43 43 555, fax: (22) 43 43 556
e-mail: groups@itaka.pl